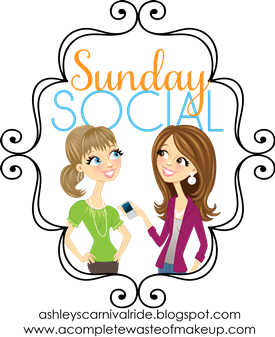 Joining Neely and Amber today for the Sunday Social! I feel like all I do is blog weekend recaps lately (probably b/c my blog quality time is predominantly on Sundays) so thought I'd break the monotony a little.
This week's questions:
1. Favorite movie of all time?
Dirty Dancing! I have a ton of favs, so it's hard to pick.. I mean, Shawshank Redemption, You've Got Mail, Garden State, X-Men... I just dig movies period. But, Swayze wins. My lil sis in my sorority and I used to even know some of that Hungry Eyes dance and would laugh hysterically acting it out at functions. Yeah, I know...
2. Fav movie quote?
Oh gosh.. again.. so many!
But, I pick the "lightning could strike" quote from Meet Joe Black. Gosh, I love that movie.
Love is passion, obsession, someone you can't live without. I say, fall head over heels. Find someone you can love like crazy and who will love you the same way back. How do you find him? Well, you forget your head, and you listen to your heart...Cause the truth is, honey, there's no sense living your life without this. To make the journey and not fall deeply in love, well, you haven't lived a life at all. But you have to try, cause if you haven't tried, you haven't lived.
Or possibly this one from You've Got Mail:
Don't you love New York in the fall? It makes me wanna buy school supplies. I would send you a bouquet of newly sharpened pencils if I knew your name and address.
3. Best movie for a girls night?
Hmm.. I can't even think. I dunno. Maybe a rom-com or a movie where a chick kicks butt. Still thinking...
4. Fav celeb eye candy?
While I love me some Ryan Gossling, I've also been loving Jeremy Renner lately. I've been intrigued with him ever since The Hurt Locker. Given his role in the new Avengers annnnnd that he's kicking @ss in the new Bourne movies coming out, my crush is only growing. He plays an awesome bad@ss action star. Just saying.
5. Best break up movie?
The Break Up. That movie left me ho-hum the first time I watched it, but it's definitely a good "that's-just-how-things-go-sometimes" breakup flick.
6. Movie star closet I'd want to raid?
* Reese (I pretend we're on a first name basis)
* Nicole Richie
:)